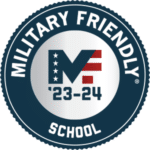 NUC University is staffed with professionals specialized in guiding the active military or military dependent student. The Institution is approved by the State Approving Agencies (SAA) to provide academic training to students under the various GI Bill® programs. This gave us the opportunity to qualify for the Military Friendly® certification, the only institution in Puerto Rico to obtain this designation in 2015.
It is important to know that each of the administrative and academic processes has been evaluated to provide the best service to our active military and military dependent students.
This procedure ensures for you a complete orientation on administrative processes, military benefits, and how our education is the right alternative to achieve your academic goals no matter where you are. Our main objective is to provide students with needed tools when making the major decision to study with us.
NUC University makes associate, bachelor's, and master's degrees available to active soldiers, their spouses, and dependents. Whether you're interested in advancing your career in the military, starting or continuing studies to join the civilian workforce, or simply taking advantage of the benefits the GI Bill® provides to veterans. The Department of Veterans Affairs (VA) administers several financial assistance programs for active soldiers, reservists, National Guard soldiers and their dependents.
Financial Assistance for Active Military, Veterans and Dependents
Benefits:
The GI Bill® offers various benefits depending on the time and service provided by the soldier.
Below is the list:
Montgomery GI Bill® Chapter 30 – Active Duty Program.
Chapter 31 (VR and E) – Vocational Rehabilitation Program.
Chapter 33 (Post 9/11) – Veteran's Educational Assistance Program.
Chapter 35 (DEA) – Educational assistance program for survivors and dependents.
Montgomery GI Bill® Chapter 1606 (MGIB-SR) – Reserve Selection Program.
Soldiers must complete the online military benefits application (www.va.gov) to apply for benefits. All prospective students wishing to use Tuition Assistance or VA educational benefits are directed to consult with their Education Service Officer (ESO), military counselor, or service representative prior to enrolling.
The Tuition Assistance (TA) program provides financial assistance for voluntary off-duty education programs in support of soldiers' professional and personal self-development goals. TA is available for classroom and distance learning courses. Courses must be offered by schools registered with ArmyigniED and accredited by agencies recognized by the U.S. Department of Education. For more information about the program and to apply for tuition assistance, you can use the information below:
Website:  https://www.armyignited.army.mil/student/public/welcome
GI Bill® is a registered trademark of the U.S. Department of Veterans Affairs (VA).