Associate Degree in Nursing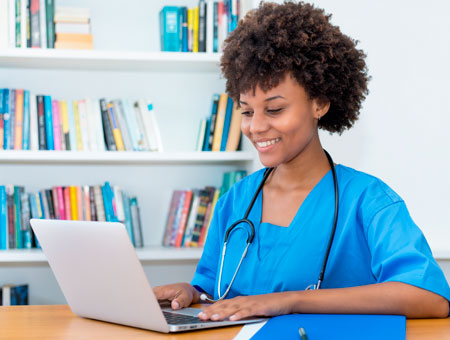 Future Start DateJanuary 10
Duration
2 years
Following the curricular sequence
The Associate's Degree in Nursing trains students in the application of knowledge, skills and abilities in collaboration with the multidisciplinary health team, participating in the planning and provision of care centered on the client, family, and community. Furthermore, students will integrate safety principles when performing their clinical practice based on evidence and intervention in the field of nursing in a variety of settings. Graduates of this program will demonstrate competence in methods of the natural sciences and human behavior, under the direct supervision of a nursing professional in the general, specialist, or advanced practice categories.
Programmatic Accreditation

Accreditation Commission for Education in Nursing
Outstanding Courses
Fundamentals of Nursing
Psychology
Nursing Interventions with Adult and Elder
Nursing Intervention in Mother and Newborn
Nursing Interventions with the Child and Adolescent"
Possible Employment Opportunities
Hospitals, private and public sector

Medical offices

Homecare centers

Homes for the elderly

Medical insurance plans (auditing)


Clinical laboratories
Related License Or Certification
Upon graduation, students are required to take the licensing examination to obtain the associate nurse license issued by the Puerto Rico Board of Nurse Examiners.
Program Competencies
Graduates of this program will be able to:
Safely carry out tasks at hospitals, medical offices, laboratories, and outpatient and advanced-age care facilities within the ethical and legal limits and the scope of practice of the nursing associate degree professional in Puerto Rico.
Develop verbal, non-verbal, written and electronic communications with the client, family, community, and multidisciplinary health team to achieve results in the care provided.
Use critical thinking and the nursing process to holistically promote, maintain, and re-establish the wellbeing of the client, family, and community.
Identify the phases of the nursing process, integrating technological advances, research, and evidence-based practice to carry out nursing care for the client, family, and community.
Apply the use of technology for the handling of information related to the client's, family's, and community's care.
Promote the use of professional ethical canons, social norms, and laws regulating nursing practice in Puerto Rico.
Recognize singularity, cultural diversity, and human responses when selecting holistic nursing interventions.